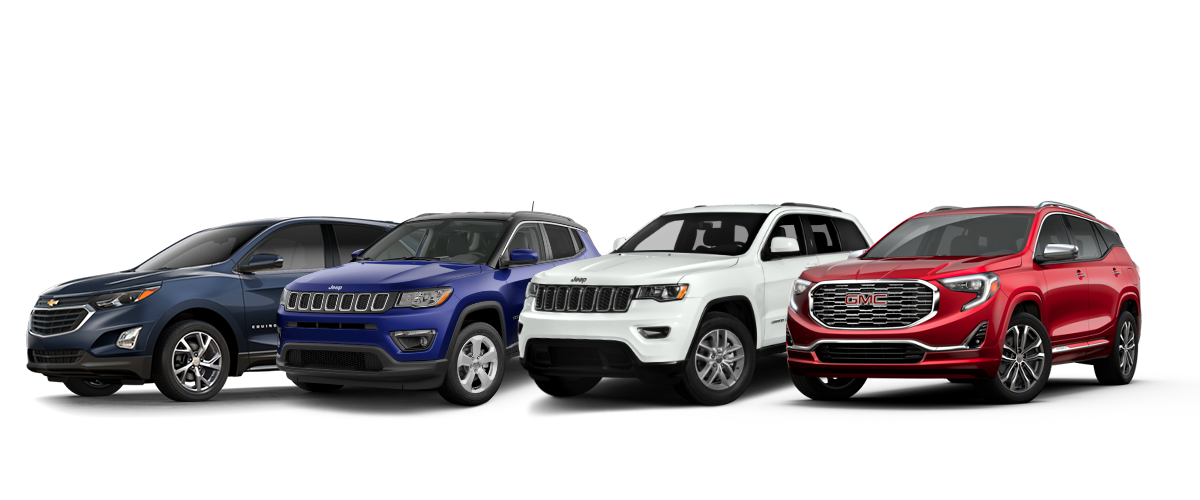 Sullivan Automotive Group

Top SUVs in Torrington
Sullivan Auto Group Offers Some of the Top SUVs in Torrington, CT!
You are someone who knows exactly what they need in their next car but, finding the right SUV for the whole family can be a difficult endeavor as many SUVs can be energy inefficiency, bulky, hard to manipulate or simply unreliable in the long run. You might not be looking for the most luxurious and expensive SUV there is, but you need something a lot more realistic with all of the right safety features, durability, and versatility that an SUV should have. We here at the Sullivan Automotive Group might have just what you're looking for in our inventory of top SUV models in Torrington, Connecticut. Whether it's a Jeep, Chevrolet, Buick, GMC, or Honda model, you will enjoy all that our SUVs can do to benefit your family and your needs! So, check out our inventory of top SUV models in Torrington,. CT and let's find you your next family car!
Compare Top SUVs
Jeep Compass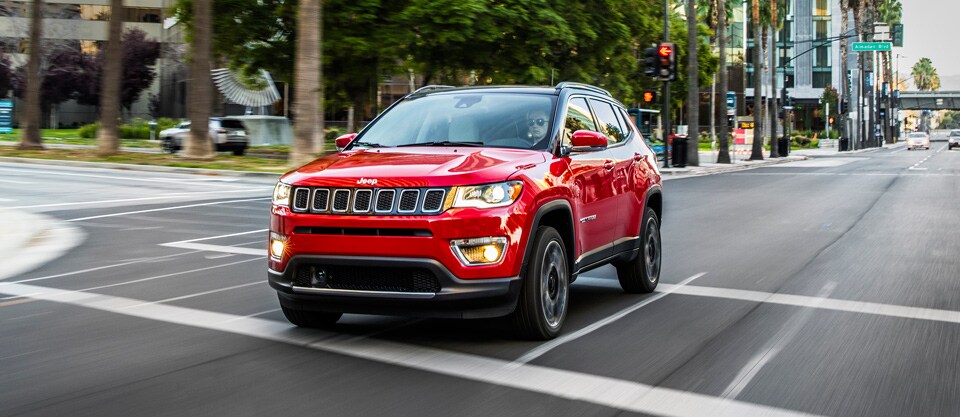 The Jeep brand is known for its SUV models, which are both family-friendly and reliable on or off of the road, the Jeep Compass is certainly no exception. Its top highlights include:
101.3 cubic feet of passenger volume as well as 63 cubic feet of maximum cargo volume with the rear seats folded.
An available 2.4-liter, 172 horsepower 16-valve inline four-cylinder (I4) engine which generates 165 pound-feet of engine torque with variable valve control.
And available four-wheel independent suspension with four-wheel drive for maximum traction and turning efficiency.
Jeep Cherokee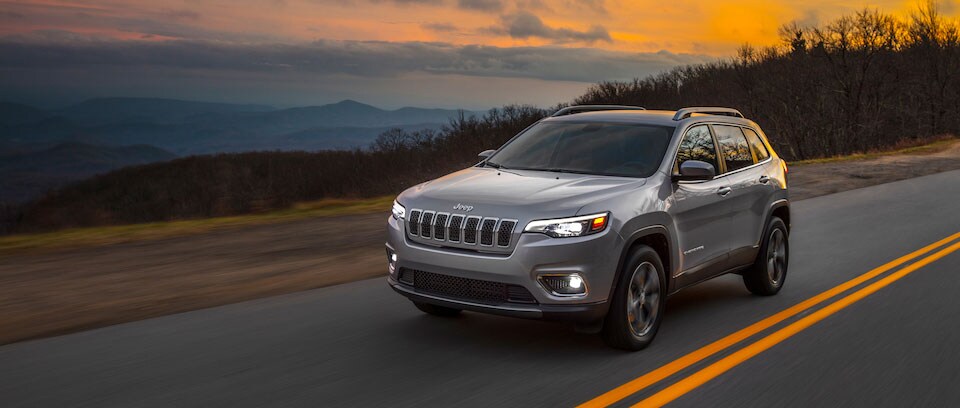 The Jeep Cherokee has been a top-rated Jeep SUV for many years now and it is available in our inventory of top SUV models here in Torrington, CT, with pre-owned models as early as 2018 models.
The Cherokee gives you a great deal of off-roading capabilities with its available four-wheel drive as well as an eight-inch ground clearance and available roof rails.
This SUV can carry up to 1,000 pounds in its trunk and can also tow up to 2,000 pounds with the right engine and equipment, making it a versatile choice for adventures in the great outdoors.
Its available 180-horsepower I4 engine comes paired with a nine-speed automatic transmission with an AutoStick® manual-shift auto for a more controlled and responsive acceleration without the hassle of learning manual transmission.
Jeep Grand Cherokee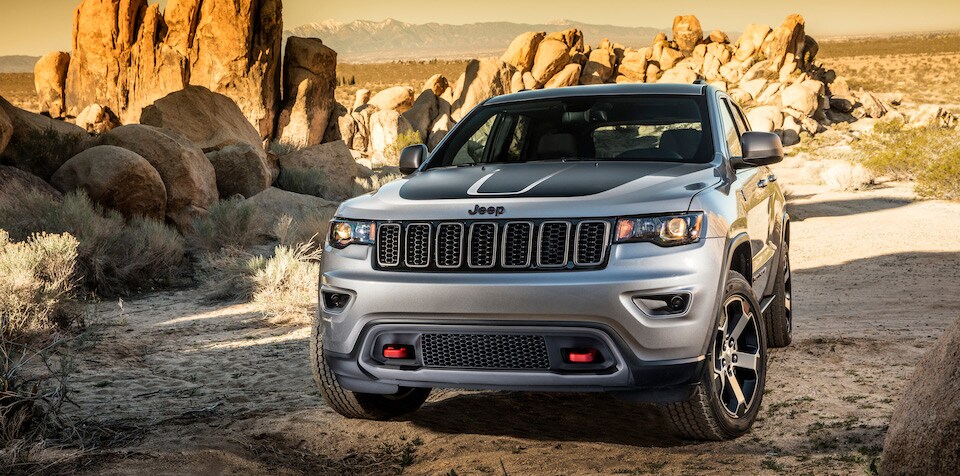 The Jeep Grand Cherokee is one of the most spacious and capable Jeep SUVs that we have to offer at the Sullivan Auto Group, thanks to its available 3.6-liter, 290 horsepower 24-valve V6 engine.
The Grand Cherokee features a total of 105 cubic feet of passenger volume with 36 cubic feet of cargo volume, which allows for 39-40 inches of head room and about 38-40 inches of leg room, between the back and front rows. Fold in the rear seats to free up to 68 cubic feet of passenger volume.
Its available V6 engine allows the Jeep Grand Cherokee to tow up to 3,500 pounds with a carrying payload of 1,320 pounds.
Finally, the Jeep Grand Cherokee features a 10.2-inch ground clearance as well as available four-wheel drive and available all-terrain tires, making it a safe and fun adventure vehicle for the next drive out to a music festival or camping trip.
Honda CR-V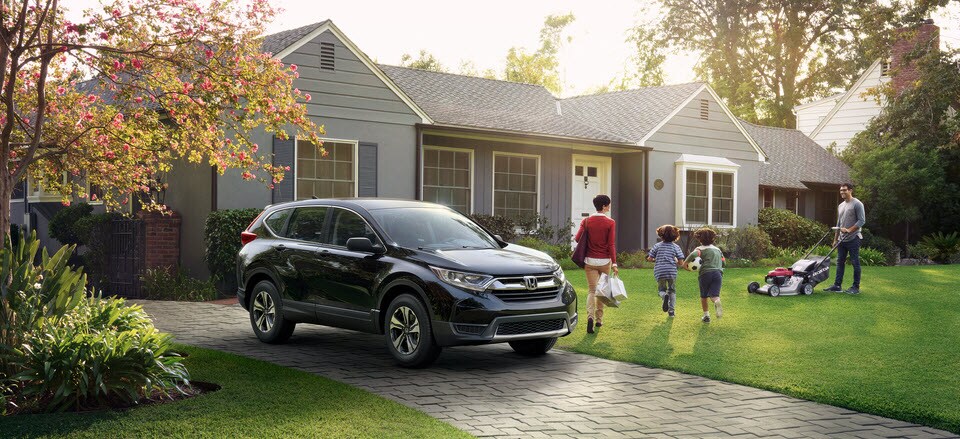 If the Honda brand had a "flag ship:" SUV, it would most likely be the Honda CR-V, which has enjoyed a prestigious reputation of dependability since this SUV first debuted in 1997.
When it comes to fuel efficiency, the Honda CR-V matches many other Honda models in its performance, gaining an EPA-estimated 29 miles per gallon in the city and 33 miles per gallon on the highway, with a 14-gallon fuel capacity.
The available 190 horsepower I4 engine of the Honda CR-V features an intercooled turbocharged compressor which helps to recycle energy from the engine, which would otherwise be wasted, and turn it into a nice turbo boost for a more rapid and responsive acceleration.
Our inventory of new and used Honda CR-V models, here in Torrington, come in a wide variety of trim levels, some of which feature high-tech driver-assistive applications from Honda Sensing®, including the Blind Spot Information warning, Rear Cross Traffic Alert, and Forward Collision Mitigation.
Buick Encore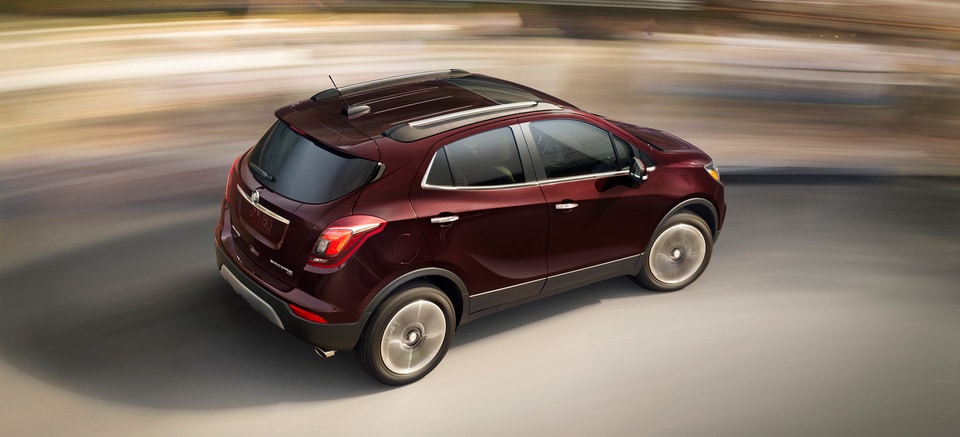 Buick models are known for their style and luxury, the Encore is one of the best examples of this but, moreover, this SUV is a testament to the resilience of the Buick brand as these SUV models retain their sophistication whether they are new or pre-owned. 
Our new and used Buick Encore SUVs come available with a great deal of high-tech gadgets and convenient amenities to thrill and delight your passengers throughout the whole journey, such as OnStar® Turn-by-Turn Navigation, SiriusXM® Satellite Radio compatibility, and power driver and front passenger heated seats with lumbar support.
Like the Honda CR-V, the engine of the Buick Encore also features an intercooled turbocharged compressor for an extra speed boost and added efficiency.
Finally, the Buick Encore features a wide variety of excellent safety features in most trim levels such as traction control, brake assist, front fog lights, a blind spot sensor, Rear Collision Warning and an exterior parking camera with guide lines.
GMC Terrain

The GMC Terrain is a prime example of the powertrain and efficiency that the GMC brand commands in all of its vehicles, whether they be SUVs or pickup trucks.
Our brand-new GMC Terrain models are reinforced with ultra-high-strength steel for maximum durability. The 2018 GMC Terrain holds the highest "Superior" rating in the category of Front Crash Prevention by the Insurance Institute for Highway Safety (IIHS).
The GMC Terrain seats five passengers with a variety of interior upholstery fabrics available on new and pre-owned models, from cloth to premium leather with heated front seats available on certain trim levels for you and your copilot to enjoy.
Many of our new and pre-owned GMC Terrain models come available with advanced entertainment systems, featuring OnStar® Navigation, Apple CarPlay™, Android Auto™, and Bluetooth®.
Chevrolet Equinox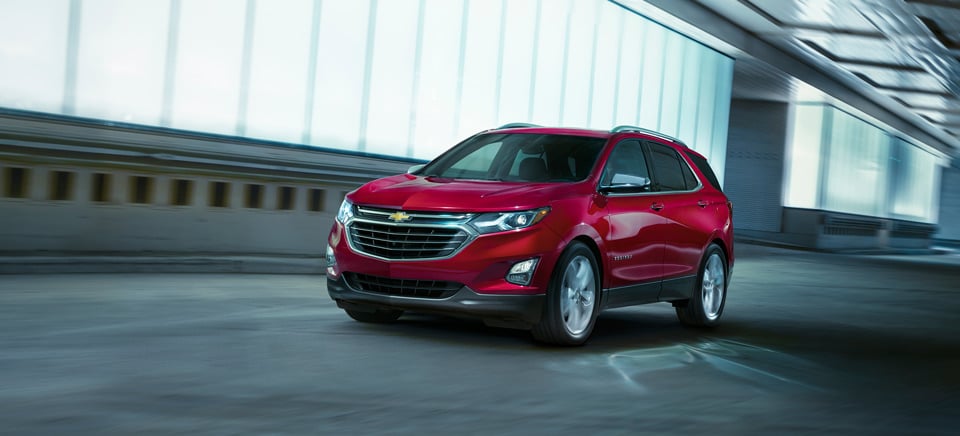 Chevy strives for greatness in all of their cars, trucks, and SUVs delivering some truly capable cars, trucks, and SUVs that people throughout the country love talking about. The Chevy Equinox is one of the best examples of their family-friendly mid-sized SUV models and its available through the Sullivan Automotive Group in one of our many locations throughout the Torrington area.
The Equinox comes available with a 1.5-liter, 170 horsepower intercooled turbocharged I4 engine which generates 203 pound-feet of engine torque and features variable valve control, allowing for increased engine aspiration and better fuel efficiency.
The Chevy Equinox features about 63 cubic feet of maximum cargo volume as well as up to 100 cubic feet of passenger volume, with seating for five passengers, including the driver.
Finally, the Equinox comes standard and available with a great deal of highly-regarded safety and driver-assistive features such as StabiliTrak® traction control, high-intensity discharge headlights, Brake Assist, and an exterior rear parking camera.
Enjoy Exceptional SUVs!
No matter what your needs are in your next SUV, the Sullivan Auto Group is here to meet them with a new or pre-owned SUV. Discover a new mid-sized SUV that is just right for you and your family and test drive one of our top SUVs at any of our dealership throughout the Torrington area! Be sure t utilize our handy directions to find the best route to a location near you and find your next SUV today! See you soon!
Make an Inquiry